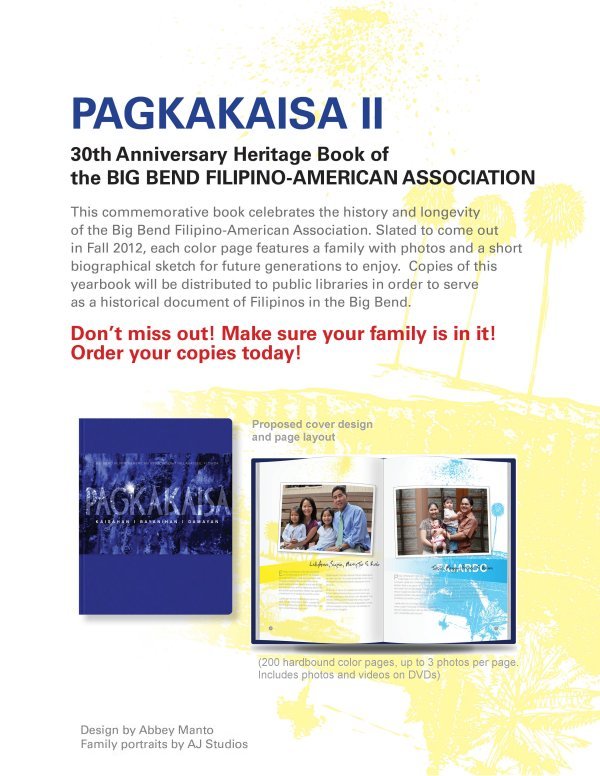 Order ONLINE!
You can order one or more items by clicking Continue Shopping on Paypal Shopping Cart. Choose from these items below:
Digital Photo – you will receive your digital photos taken by AJ Studios by email. If you know the photo number, please indicate it when you check-out at Paypal. It will speed up the transaction. Click here to view the contact print.
Donation (optional) – this fund will be used to help defray cost of production and help needy families obtain a copy of the book at discounted price. To increase your donation, update "Quantity" on Paypal Shopping cart.
Reserve your copies of the Heritage Book for $25.00. This is refundable until April 2012 or applied towards the purchase of the book.
Installment Payment: To make installment payments ($25 increment), choose this option and update "Quantity" on Paypal Shopping Cart. For example, if you want to pay $50, enter "2" under Quantity and click "update".
Full Payment – Price of Heritage Book is capped at $75. Protect yourself from any price increase if you pay by April 2012. Full price may increase after that date. Order extra copies, it makes a great gift for Christmas 2012!
Non-Member Book Price – $100 non-refundable. Click here to find out how to be a member.
Pagkakaisa II 30th Anniversary Heritage Book
You can also send your payments (payable to BBFAA) to
Lilibeth Battles
Treasurer, BBFAA
3343 Cameron Chase Dr.
Tallahassee, FL 32309
Browse Pagkakaisa 16th Anniversary Commemorative Book 1997
Browse other BBFAA publications